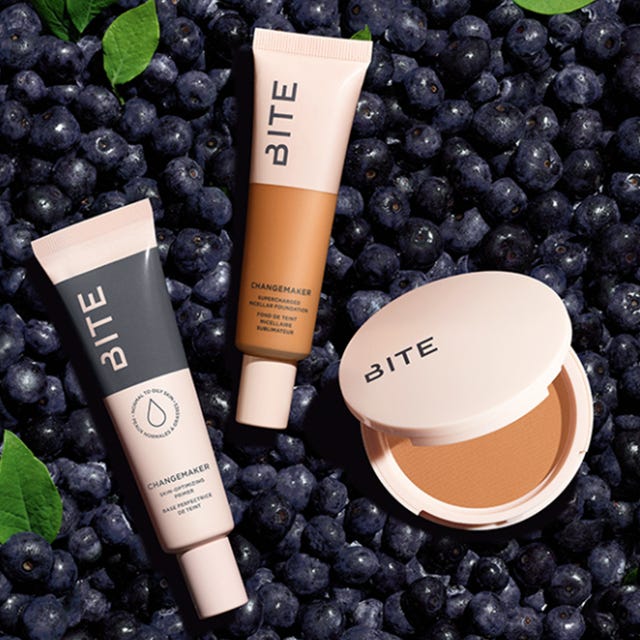 Bite Beauty
Canadian beauty brand Bite has just arrived in the UK, having already won over the US and Australia. To help the nation get acquainted with the brand, our beauty team has been trying out the range and have kindly picked out their must-buys.
We predict it won't be long till the brand's coveted products find long-term homes in British makeup bags too.
Our Senior Beauty Editor Alexandra Friend was certainly pleased to see it arrive on our shores, praising the brand for its pretty and fresh-faced results. She told us: "It's brilliant off-duty makeup. As with other brands typically marketed to a younger audience (Glossier, anyone?) there's a lot to be said for more mature customers borrowing their beauty from Generation Z. The textures are often lighter, the finishes look more natural and the colours are fun, modern and flattering."
The brand identity is very much shaped around being vegan and 'superfood-fuelled', declaring: "We harness the power of ingredients that are rich in the stuff your skin craves—antioxidants, vitamins, minerals, fatty acids, and more—to deliver vivid colour, sensorial textures and products that make you look and feel damn good."
A stance our Beauty Assistant Medina Azaldin sees as a more meaningful approach to the trend: "I like that despite the 'clean' message, they focus on what's inside the product rather that what's not in it."
She also credits the brand for not letting its ethos limit its range, adding: "It's nice to see a brand with skin-caring properties doing punchier colours, a range of textures, and high-performing formulations."
Now that we've got your attention, it's time you met the products…
Advertisement – Continue Reading Below
1
Bite Blush Review
Bite Beauty Daycation Whipped Blush 10ml
Alexandra Says: "I love, love, love this cheek colour. Cream blush is notoriously short lived on the skin, but I'm writing this having applied it over six hours ago, then put on and removed a face covering multiple times and taken two sticky trips on the London underground – and it's still very much there. 
"It's more mousse than cream and stains the skin with a delicate watercolour glow. I highly recommend it, especially if you're new to cream blush or haven't yet found a good one – it's so flattering."
2
Bite Foundation Review
Bite Beauty Changemaker Supercharged Micellar Foundation 30ml
Alexandra Says: "This is the only foundation I want to wear right now – I find myself reaching for it day after day, even when I'm supposed to be trialling new and different bases. 
"It has a finish that looks like real skin but with the shine filtered out – I'd call it matte, but very softly so. It feels creamy and gentle to apply, doesn't clog in open pores and is easy to build without suddenly finding I've put too much on. In fact, I'd say it looks as if I'm not wearing any foundation at all – which is exactly what I want from my makeup."
3
Bite Mascara Review
Bite Beauty Upswing Full Volume Mascara 12ml
Medina Says: "I haven't had much luck with mascaras from green or natural brands as they tend to be heavy with emollients that cause smudging, or simply don't deliver the lift I need. But this one is seriously impressive. 
"It creates dramatic volume, holds a curl, and does not smudge or flake even through sweaty workouts. I would prefer a slimmer wand for my smaller eyes, but otherwise, it's fantastic."
4
Bite Lipstick Review
Bite Beauty Power Move Soft Matte Lipstick 4g
Medina Says: "Matte textures are everywhere right now but this one knocks it out of the park – and I've tried plenty of lipsticks! 
"It wears so comfortably, and while it will eventually wear off after multiple cups of tea, it won't leave lips chapped or dry, and the soft formula makes it easy to blend into a pretty stain. 
"Chai is the perfect shade of my-lips-but-better: a warm dusty pink that just gives my skin a little lift.'
5
Bite Primer Review
Bite Beauty Changemaker Skin-Optimizing Primer 30ml
Alexandra Says: "I generally don't use a primer. I prefer less layers on my skin, and so far they've seemed either too heavy or too gleaming. Having said that, unless I apply my make-up directly after my last layer of skincare it doesn't always sit well, with a tendency to accentuate dryness, pores, and any mild peeling. 
"This though, is a lightweight lotion that sinks in immediately and creates the perfect buffer between my skin and my make-up. It feels fresh, cooling and comfortable, and is especially good if I'm applying foundation later in the day, when my skin is a little drier. 
"I use the hydrating formula, though there's a mattifying option for normal-to-oily skin too. I'm wearing it almost every day, and I never thought I'd say that about a primer."
6
Bite Pressed Powder Review
Bite Beauty Changemaker Supercharged Flexible Coverage Pressed Powder 7.5g
Medina Says: "This powder is so elegantly formulated. It's made with finely-milled volcanic minerals that look and feel invisible on my skin, and gently takes away excess shine and sets concealer without minimising natural radiance. 
'The soft vanilla scent is an added bonus too (don't worry, it disappears once you apply)."
This content is created and maintained by a third party, and imported onto this page to help users provide their email addresses. You may be able to find more information about this and similar content at piano.io
Advertisement – Continue Reading Below